Hollow Piston Rod, Hydraulic Honed Tubes, Pneumatic Cylinder Tubes, Hydraulic Cylinder Tubing, Hydraulic Cylinder Honed Tube, Steel Tube For Hydraulic cylinder, Precision Tubes for Hydraulic,
Seamless Precision Steel Tube, H

ydraulic

C

ylinder

H

ollow

P

iston

R

od




Specification for Hollow Piston Rod
OD: 48mm(1-1/2'')~325mm(12'')
ID: 30mm~280mm
LENGTH: 1m~9m
Diameter tolerance: ISO f7 f8
Roughness: Ra 0.25micron (max) or Ra 0.4micron (max)
Internal Normal Surface Without Honed / External Chroming, Grinding, Polishing etc...


Steel Grades
E355/ST52/CK45/ ST52/ 20MnV6/ S45C/42CrMo4/ 40Cr/ bearing steel/ stainless steel
SAE/AISI 1020, 1026, 1045,4130,4140,4145,4340


Application of Hollow Piston Rod
Suitable for Hydraulic Cylinder, Elevator Cylinder, Packaging and Printing Machinery, Telescope Cylinder, Scaling Ladder, Woodworking Machinery, Agriculture Machines, Fitness Equipment, Textile machinery, Automobile Industry, etc.





Chemical Composition


Mechancial Properties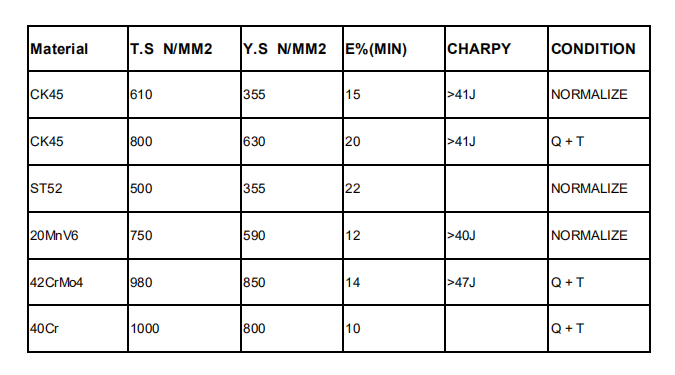 The hollow piston rod is the connecting part that supports the piston rod to do work, most of them are used in hydraulic cylinder and pneumatic cylinder motion execution parts. Therefore, the hollow piston rod is required to have sufficient strength, stiffness and stability. Take Hydraulic cylinder for example, It is mainly composed of cylinder, piston rod (cylinder rod), piston and end cover. The quality of its processing directly affects the life and reliability of the whole product. Hollow piston rod needs higher machining precision & strict surface roughness, and also demands strict requirements on straightness and wear resistance. The basic feature of hollow cylinder piston rod is the processing of slender shaft, which is difficult to process. Our company has an excellent R & D team, experienced workshop workers, strictly control the quality of each link of production. If you have any requirement, please contact us freely.